Dec. 21, 2016
25 Year Club celebrates years of service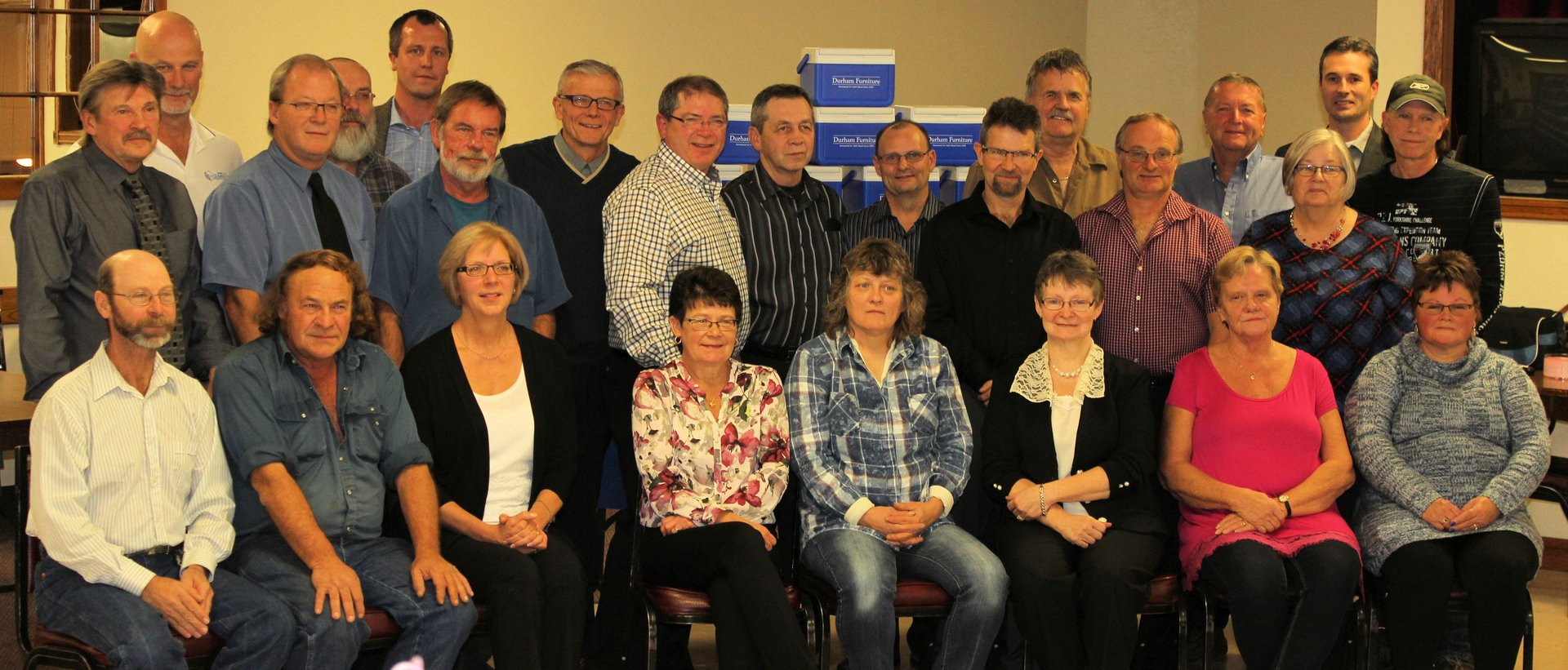 Durham 25 Year Club members include (some missing from photograph): Gary Ransome, 50 years; Allan Trafford, 45 years; Stephen Morris, 44 years; Karen Hargrave, 44 years; Wayne Rawn, 44 years; Bruce Witherow, 43 years; Walter Dundys, 42 years; Danny Campbell, 41 years; Janet Grierson, 40 years; Debbie McGillivray, 40 years; David Smith, 38 years; Julie Fennell, 38 years; Bradley Hopkins, 37 years; Jim Nixon, 37 years; Allan Vaughan, 37 years; Ruth Ann Bartman, 36 years; Clifford Hastie, 36 years; Murray Grein, 36 years; Jeff Love, 35 years; Brenda Brown, 35 years; Marilyn Campbell, 35 years; Paul Schieven, 30 years; Ronald Dow, 29 years; Mark Grove, 28 years; Jo Ann Anderson, 27 years; Richard Doney, 26 years; Royden Paylor, 25 years; Richard Cutting, 25 years.
DURHAM, Ontario – Solid wood case goods specialist Durham Furniture recently added two new members into its 25 Year Club, an annual service award that originated in 1995 to recognize employees with 25 years of service or more.
Royden Paylor, operator in the machine mill department, and Richard Cutting, finishing sander in Mill 4, were inducted during an event held in early November that brought the total number of members to 28.
Paylor, who sets up and operates saws, routers and wide belts, came to Durham Furniture for a summer job in 1991. "I feel privileged to be inducted and cannot believe how fast 25 years have flown by," he said.
The 28 members of Durham Furniture's 25 Year Club are seen here at their recent annual gathering.
Taking the job to save money to build a shop of his own, Cutting is charged with making sure imperfections in the wood are removed prior to production. "I've tried to retire twice, but they keep asking me to stay," he said jokingly. "So, needless to say, I haven't built the shop yet!"
He shared Paylor's disbelief in how quickly the time has passed and how honored he was to be inducted into to the club.
"Since we were founded in 1899, multiple generations of families have handcrafted furniture in our red brick factory," said Luke Simpson, president and CEO of Durham Furniture. "As a premier furniture manufacturer in North America, our employees take personal pride in creating beautiful solid wood bedroom furniture known for its quality, design and enduring value. The quality and service that we provide to our growing customer base of retailers and interior designers is a direct result of the dedication and commitment of our employees."
The annual service award creates a framework where long-term employees can be recognized consistently and it also produces multiple organizational benefits for the company, according to Simpson.
"Recognizing employees for their dedication builds engagement with the values that drive our business and results in increased productivity, retention of top performers and enhanced recruiting capabilities," he said. "It also builds a very positive work environment, a place where our employees are proud to work."
Jeff Love, who has been with Durham Furniture for 35 years, has experienced firsthand, as plant manager, the organisational benefits that the annual service award creates.
"The club demonstrates to new employees that there is a long-term future for them here and that our roots are well established," he said. "Our shareholders may change, but our people remain the same and they are the heart of the company," he added. "The skill and dedication they apply to making furniture is second to none and you can see the love of their craft in each piece they create."
Gary Ransome, a salvage saw operator, is the most senior member of the club, with 50 years of service. He commented on how his 50-year career at Durham Furniture began, "I was 16 years old and needed work for the winter," he said. "I knew a guy that worked here, so I came in one day and haven't left since. Fifty years is a long time."
The awards ceremony, which was held at the Durham Curling Club, included dinner, gifts and social time to honor employees for their loyalty and dedication to the company. With years of service ranging from 25 to 50 years, the average number of years worked for all 28 members is 36.5 and the total accumulated number of years is 1,023.