July 18, 2019
CANADIAN OFFICIALS HONOR DURHAM FURNITURE ON ITS 120th ANNIVERSARY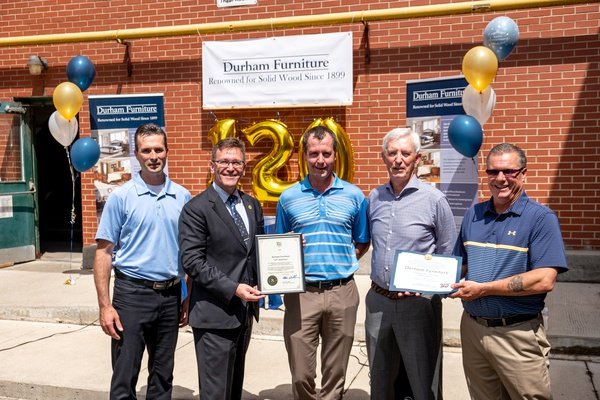 CANADIAN OFFICIALS HONOR DURHAM FURNITURE ON ITS  120th ANNIVERSARY
CEO TELLS DIGNITARIES & EMPLOYEES COMPANY IS MAKING MAJOR EFFORT TO REACH NEW CONSUMERS WITH CONTEMPORARY PRODUCTS
DURHAM, Canada – Durham Furniture, a leading North American manufacturer of solid wood bedroom and occasional furniture, continued its year-long celebration in honor of its 120th anniversary with a company-wide event recently that brought together local dignitaries and employees. The officials presented the company with commemorative citations on reaching this milestone, and Durham Furniture President and CEO Luke Simpson shared that his vision for long-term growth was aimed at reaching a new generation of consumers through more contemporary products, updated messaging and modernized marketing visuals.
"This significant milestone provides a platform for us to pause and celebrate the dedication of our employees who have always been an integral part of our history," said Simpson. "It also inspires us to build a foundation for many more years of success, which starts with targeting the next generation of consumers.
"This strategy is demonstrated by the updated designs of two of our most recent collections," he continued.  "We've added a fresh new look and modern-day functionality to our best-selling Chateau Fontaine collection as well as introduced Studio 19, which was strategically designed to capture sales from millennial consumers. These collections were extremely well-received at the April High Point Market and began shipping to retailers this month, a testament to the updated styling that is resonating in the marketplace."
Following Simpson's address to attendees, Larry Vollett, previous chairman of Durham Furniture, Bill Walker, member of provincial parliament in Owen Sound and Tom Hutchinson, deputy mayor of West Grey municipality, each recognized the commitment of Durham employees and the positive impact the company has had on the local economy.
In honor of the 120-year anniversary, Hutchinson and Walker presented the company with congratulatory certificates from the offices of Mayor Christine Robinson of the West Grey municipality and the provincial parliament for Bruce-Grey-Owen Sound in Ontario, respectively.  
Held at its historic factory – which dates back to the late 19th century and remains the present site of the factory today – the catered BBQ lunch event was part staff appreciation, part anniversary celebration and included brief videos of the manufacturing process and details that go into each piece of solid wood furniture as well as historical memorabilia and artifacts for attendees to view.
The company shared photographs from the anniversary event throughout the day via social media using the hashtag #Durham120.