June 26, 2017
DURHAM FURNITURE TIES CANADA DAY CELEBRATION WITH ITS OWN 118-YEAR CONTINUOUS MANUFACTURING MILESTONE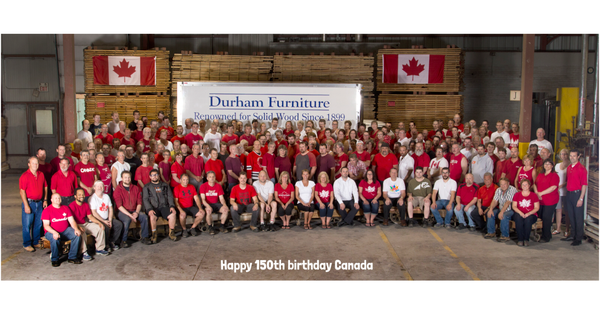 DURHAM FURNITURE TIES CANADA DAY CELEBRATION WITH ITS OWN 118-YEAR CONTINUOUS MANUFACTURING MILESTONE
DURHAM, Canada – Durham Furniture is celebrating its 118-year history as a Canadian manufacturer of solid wood bedroom and occasional furniture in conjunction with its country's much celebrated 150th Anniversary of Canada Day. Canada's rich history of furniture manufacturing dates back to the early 1800s, and since its founding, Durham Furniture has remained a stronghold among the country's shrinking manufacturing landscape.
In early 2000s, the Southwestern Ontario region of Canada lost a significant number of furniture manufacturers, yet occasional and bedroom manufacturer Durham Furniture persisted through the challenges brought on by a growing global market. As one of the few solid wood furniture manufacturers remaining in Canada, Durham has been producing fine-crafted products for nearly 12 decades.
"We're excited to celebrate Canada Day along with our employees who have helped keep Durham relevant in today's home furnishings marketplace throughout North America," said Luke Simpson, president and CEO of Durham Furniture. "We're proud to be among Canada's resilient home furnishings companies, and we envision many more years of growth right here where we began."
During the 2008 recession, the Canadian dollar strengthened against the U.S. dollar, in turn causing many Canadian manufacturers' product lines to be more expensive for the U.S. market. Durham's ability to overcome these challenges, coupled with its expanding product line and customization options for its retailers and growing customer base of interior designers, makes its continued success all the more impressive today.
To pay tribute to and celebrate Canada Day – this year marks the country's 150th anniversary – Durham has gathered its 180 employees for a photograph at the factory. An annual celebration on July 1, Canada Day commemorates the anniversary of the enactment of the Constitution Act, 1867, which united the colonies of Canada, Nova Scotia and New Brunswick.
"This is a big deal for us because of how rare Canadian furniture companies have become," Simpson said. "Despite many hardships that have caused other manufacturers to close their doors, we are still going strong and the future looks bright."