May 1, 2017
Durham Introduces "Prominence Collection" at High Point Market.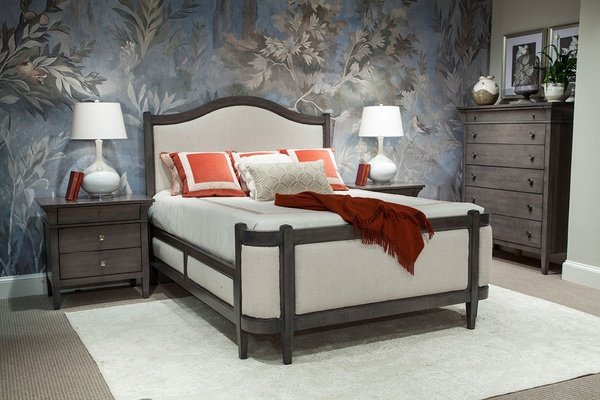 PROMINENCE BY DURHAM FURNITURE TAKES A SLEEK, CONTEMPORIZED APPROACH TO DELIVER AN UPDATED TRADITIONAL STYLE
DURHAM, Canada --  Responding to consumer demand for a traditional, yet contemporized style, Durham Furniture's new bedroom collection, Prominence, delivers. With a sophisticated design that commands attention from every angle, the seven-piece collection features a sleek, yet elegant style that pays homage to its traditional roots.
"Over the last year, our dealers have resoundingly shared with us that consumers are looking for solid wood furniture that has traditional bones, yet is updated for today," said Luke Simpson, president and CEO of Durham Furniture. "Prominence hits the mark with its sophisticated silhouettes which are updated with contemporized finishes and hardware for today's consumers."
The collection is presented in two new distinctive finishes that effortlessly accentuate the depth and interest of the solid maple wood grain. Oyster is a light gray stain, while Cinder is a fresh clear brown.  In addition to the new finishes, Prominence is also available in any of Durham's more than 40 maple, non wire-brushed finishes.
The group is anchored by the Grand Upholstered Panel Bed (81 1/4" W x 86" D x 62" H) which is characterized by its impressive scale and uniquely curved footboard which rests on four offset legs. Shapely and memorable, the statement piece is the first of its kind in Durham's product portfolio. The headboard, footboard and rails can be upholstered in more than 25 fabrics, as well as customers' own material (COM).         
"This bed is a real divergence for us," said Simpson. "In addition to its substantial size, the curve of the footboard is very unique for a solid wood manufacturer due to the challenges it can bring from a manufacturing perspective. Our team took the challenge head-on and the outcome is remarkable."
With sleek lines that balance the curves of the Grand Upholstered Panel Bed, the Upholstered Panel Bed (81 3/4" W x 85 1/2" D x 58" H) features nail heads and intricate details which frame the headboard and footboard. Taking on a different personality in each of the two new finishes, it is also offered in more than 25 fabrics, as well as customers' own material (COM) or as a stately Wood Panel Bed featuring horizontal slats of the same sleek lines. All beds in the Prominence collection are made of solid maple and available in more than 40 finishes.
Updated for today, yet rooted in tradition, the four-drawer Single Dresser (46" W 20"D 39 7/8 H"), three-drawer Nightstand (30" W x 20" D x 29 1/4" H) and six-drawer Tall Chest (46" W x 20" D x 57 1/8" H) feature graduated drawers, a nod to classic styling. On the similarly styled eight-drawer Double Dresser (68" W x 20" D x 39 7/8" H), each pair of drawers is cut from a continuous length of lumber, so that the grain patterns match across the front. A single-drawer Open Nightstand (26" W x 20" D x 29 1/4" H) features electrical outlets and USB ports for charging electronic devices. Simple, four-sided hardware in a worn finish accented with bronze highlights add the finishing touch to each case piece, which include soft-close drawer glides and cedar-lined lower drawers.