Oct. 16, 2019
DURHAM FURNITURE TO LAUNCH 24-PIECE BEDROOM & OCCASIONAL LINE AT FALL HIGH POINT MARKET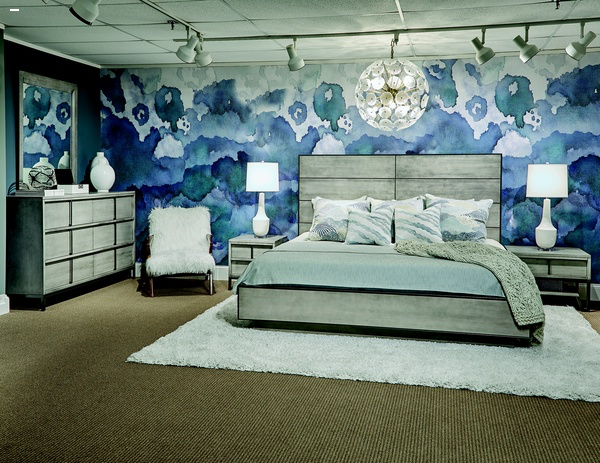 DURHAM FURNITURE TO LAUNCH 24-PIECE BEDROOM & OCCASIONAL LINE AT FALL HIGH POINT MARKET
TARGETING MILLENIALS & INTERIOR DESIGNERS, 'MILESTONE' COLLECTION WILL BE  LARGEST IN RECENT HISTORY
DURHAM, Canada – Solid wood specialist Durham Furniture is set to debut the contemporary-styled "Milestone" Collection of bedroom and occasional items at the upcoming High Point Market. Continuing its focus on reaching the next generation of consumers and the interior design community, the 24-piece collection features contemporary styles layered with mixed materials. The selection includes 15 bedroom items and nine occasional pieces, making it one of the larger collections the company has launched recently.
"The addition of the Milestone collection will balance nicely with the more traditional and transitional collections we have in our portfolio and will strengthen our contemporary product offering," said Luke Simpson, president and chief executive officer of Durham Furniture. "The style and design is more in-tune with what the younger generation of consumers are looking for and the mixed media look gives our design partners the diversity in texture and materials that they often seek when designing more contemporary spaces."
Crafted of solid maple, the collection features contemporary metal bases, metal framing and sleek metal hardware in an Anthracite finish, which has a sub-metallic luster with silver and black tones.
Also in the Anthracite finish, the custom-designed hardware is a defining characteristic of the collection. Available in three different lengths – five-, seven- and nine-inches – the sleek bar
pulls are mounted vertically on recessed drawer fronts, visually heightening each piece while adding dimension and a unique look that is unlike any design that Durham has previously introduced.  
In High Point, Milestone will be featured in a new finish called "Java" – a cool brown tone with a low sheen. Also available in any of Durham's more than 50 finishes, the overall look can be toned back for those consumers who may not want to go as far on the contemporary design spectrum.
"With a different finish, the look can easily go transitional," said Simpson. "While we anticipate the market shifting towards a more modern design aesthetic, we are also cognizant of the diverse group of consumers that our solid wood designs resonate with. Our custom finishing capabilites allow our customers to express their individual style, a key selling point and benefit of our products on the retail sales floor."
The bedroom collection features several options for storage, from a variety of nightstand sizes to an uber-functional lift storage bed. The Platform Bed sits atop a metal base and features a classic headboard silhouette with metal framing and inset wood panels, infusing a contemporary jolt of energy to the design. The footboard and rails are low profile, moving it clearly in the direction of a pure contemporary style.
Featuring banded metal accents around the perimeter of the headboard, the Plinth Bed was designed with smaller spaces in mind. It is available with an optional storage lift feature, providing consumers with the perfect solution to store out-of-season clothing, extra bedding and a variety of other items in an otherwise unused space. The plinth base – which sits low to the ground – discreetly hides items stored underneath the lift mechanism.
In addition to the lift storage feature, six different Nightstands range in scale and style and offer one, two or three drawer options to provide flexibility in room design. The bedroom collection will also include a Storage Bench in two sizes, a Dresser, Mirror and several Storage Chests.
The nine-piece occasional lineup also utilizes mixed media styling with contemporary metal bases and clean, crisp lines.  Pieces include a variety of Cocktail and End Tables as well as several versatile Consoles that can be used as entertainment consoles, serving pieces or accent items in many areas of the home.